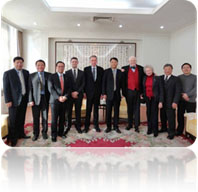 February 26, 2012
At a time of the 40th anniversary of President Nixon's historic visit to the People's Republic of China, his younger brother, the president of Nixon World Enterprises Inc., Mr. Edward Nixon, visited China for business communications and exchanges, and for most important is to celebrate the 40th anniversary of China-US friendship in February, 2012. Mr. John Gong, Chairman of Athena Technologies Inc., is the visit of China's special envoy. Counterparts are including Ph.D. James Humes (speechwriter of President Nixon and the other four presidents), Ms. Dianne Humes (President Nixon's secretary), Devon Nixon (President Nixon's grand-nephew), and private advisers of Mr. Edward Nixon, John Wong and Paul Lu. Mr. Nixon and his group arrived in Beijing, Shanghai, Hangzhou, Wuxi, Kunshan City (Jiangsu Province), Shenzhen and other places. Edward Nixon's visit to China was followed President Nixon's tracks of places. The meaning can be imagined.
In Beijing, Mr. Edward Nixon and Wei Zhang, Vice President of China Council for the Promotion of International Trade (CCPIT) had a cordial and friendly conversation in deep exchange of the current China-US trade issues. In addition, he awarded to Mr. Xiaosong Yu (Former Chairman of CCPIT), Mr. Huan Liu (Chairman of the board of CCPIT), and Mr. Yang Jiang (Secretary-General of CCPIT) of the 40th anniversary of China-US friendship plaque. Mr. Edward Nixon's Beijing trip let him meet a lot of old friends, who witnessed President Nixon's visit 40 years ago. On the evening of February 21, 2012, Mr. John Gong (Chairman of Athena Technologies Inc.) held a festive dinner to celebrate the 40th anniversary of China-US friendship in the BaFang Garden of Diaoyutai State Guesthouse. Chairman Mao's eldest daughter Ms. Min Li and Mr. Nixon in the 40 years of today warm the friendship. Jiaqi Zhao ( Chairman of Beijing People's Association for friendship with foreign Countries), Guotai Wang (the Director of the Information Office of the State Council), Ms. Zhenrong Wen (Office director of Old Premier Guixian Wu), and others are accompanied to attend the banquet and witness the steady development of China-US trade after 40 years today. Referring to the scene of Chairman Mao met with President Nixon, Ms. Min Li told details to Mr. Edward Nixon. "When my father (Chairman Mao) heard that President Nixon's visit, he woke up from a coma. He talked a whole 71 minutes with President Nixon.
End of the trip in Beijing, Mr. Nixon and his entourage arrived in Hangzhou. Mr. Nixon and his group visited Hangzhou West Lake accompanied by Mr. Jianfeng Xu (Director of Hangzhou Foreign Affairs Office). Mr. Nixon attracted by the beauty of Hangzhou, Viewed fish at Flower Harbor and Visited the Sequoia that President Nixon planted 40 years ago in Hangzhou. Two trees across the oceans, symbol of China-US friendship, are still healthy, robust growth in the land of China. Overcome with emotion, Mr. Nixon said "I sincerely wish the China-US relationship continued progress and our two people's ever-lasting friendship. And wish the new impetus to world peace and development." Then, Guili Tong (Vice Mayor of Hangzhou) exchange gifts with Mr. Nixon on February 24, 2012.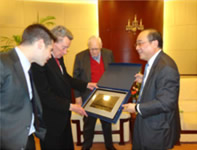 Mr. Nixon's Shanghai trip was very successful. The visit to Shanghai was on the one hand, the old hunt done by Nixon when visiting China 40 years ago, he has brought in the latest steel technique from U.S.to China on the other. Mr. Nixon has explored the steel trend and future development with Shanghai Bao Steel Group, and introduced green Nano steel, his up to date research to Bao Steel Group. The green Nano steel, with its supper strength and low cost, can be widely used in fields of defense, industry, public security and transportation, etc. This newest steel technique is what exactly China steel needs. Mr. Nixon called on Mr. Furong Shen (Chairman of CCPIT of Shanghai) exchanged views on U.S. China trade with him. Mr. Nixon also delivered the speech on "US-China Friendship And US-China Trade" to the audience of teachers and students of Shanghai University, he relate with his own experience the history of friendly intercourse between the peoples of U.S. and China, pointed out that U.S. and China need to maintain the attitude of containment and open heartedness, constantly learn from each other the new knowledge.
Mr. Nixon also visited the cities of Wu Xi and Kun Shan of Jiangsu Province. Kejiang Zhu (the Mayor of Wu Xi), Minwei Zhou (Standing Member of Wu Xi Municipal Party Committee and Vice Mayor) and Naibin Jin (the Vice Mayor of Kun Shan City) received Mr. Nixon, the two sides had cordial talks and reached consensus on the further exchanges, and ongoing initiation of the new vista on mutual cooperative relationship. Mr. Nixon considered that both Wu Xi and Kun Shan are the cities of good prospect and potential with room for further development. Mr. Nixon thought to come for the revisit to Wu Xi at the appropriate time to seek for trade cooperation after having toured in Li Yuan Garden, visited Wuxi Sensing China Expo Park, and learned the convenient life of the people through personal experience in content networking age.
Mr. Nixon's last stop was Shen Zhen after the trip to Jiangsu Province. Edward Nixon has been visited Shen Zhen for four times, the ever changing Shen Zhen is amazing, especially the efficient ports there being so competitive. Yingchun Chen (standing member of Shen Zhen Municipal Party Committee and Vice Mayor) met with Mr. Nixon; they exchanged the views on U.S. and Shen Zhen trade relationship and friendly exchanges.
This trip by Edward Nixon and his trade delegation was, besides seeking for new U.S. China cooperation and opportunities, opening up new trade and exchanges, bringing in world's latest science and technology to China, also at a time of 40 year friendship between U.S. and China, to continue this 40 year friendship with people of China. At the same time, the successful conclusion of the trip to China means more opportunities for young Americans development in China; they can go hand in hand with next generations in China for creating better futures for US- China relationships.