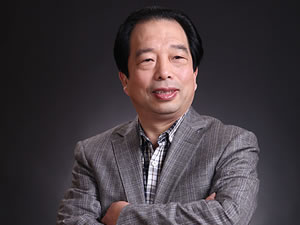 Anliang Shen, born in June 1957, styled himself as "Mozhu" and "Zhulong", in the native place of Henan Province and now lives in Beijing. He is the bamboo pen calligraphy founder. Currently, he is taking the position of vice Chairman of the World Artists Association, President of the Association of Chinese bamboo pen calligraphy, and the professor of Chinese Calligraphy Art Institute, etc. He won the honorary titles of "Chinese Master of Art" and "First Generation Master in Chinese calligraphy".
Anliang Shen has a history of practicing calligraphy and painting for over 40 years. He has devoted himself to the study of traditional Chinese calligraphy and paintings, and developed a unique style with innovation. He is the first artist to use bamboo pen to write and draw, which has been granted the national patent. Thus, the bamboo pen, together with its art work has gone into the Guinness book of world records. His art pieces of dragons are so vivid that he can fly up to the sky and down to the sea of the tiger and go up to the mountain with swing tales. The bamboo is so lush, and it shows the horse galloping while whinnying. All these creations are so spectacular and lifelike, the bamboo pen calligraphy and paintings were widely reported by over 100 media outlets in and out of China like the People's Daily, CCTV, Guangming Daily, China Youth, HKSTV, etc.
His live show on CCTV in 1992 by bamboo pen calligraphy and paintings had created much of a stir. The display of his art pieces in the National Art Museum of China on March, 1994 was so successful that it amazed the gallery and was widely renowned. At the same time, his art works were made into TV documentaries with the titles of "Bamboo Pen Draws World", "The First Man of Bamboo Paintings--- Anliang Shen ", "The Bamboo Pen Prevalent", Great Artist Interview", "Talking with Chinese Master Artist--- Anliang Shen ", "Limitless Dream Bamboo Pen", and so on.
In February 2013, Mr. Anliang Shen topped "Contemporary Calligraphy Master".
In December 2012, Mr. Shen topped "A Great Master of Chinese Calligrapher".
In October 2012, Mr. Shen awarded the honorary title of "Chinese Master of Art".
In September 2012, Mr. Shen topped "Chinese five main school of Art".
In June 2012, Mr. Shen topped "People's portrait of Chinese art".
In May 2012, Mr. Shen topped "Six famous artists in the Universe to the world".
In December 2011, Mr. Shen topped "Four Chinese dragon art leaders in calligraphy".
In November 2011, Mr. Shen topped "Ten famous Chinese calligraphers".
In October 2010, Mr. Shen topped "One artist of the eight of contemporary calligraphy".
In October 2009, Mr. Shen topped "Six Master of Art in 60 years".
In October 2008, Mr. Shen topped "Five masters in calligraphy".
He is the only calligrapher to get eleven times' awards in six consecutive years.
His art career is more than 50 years; the painting is the cornerstone to support his life. Beginning in the 1970s, his works were selected into the national calligraphy exhibition and won the all kind of awards. He won the first prize in calligraphy Exhibition of commemoration of the 60 anniversary of the victory of the war. And he also won the Grand prize in Olympic Painting and Calligraphy Exhibition in 2008. He was awarded the "patriotic Chinese artists" and "Chinese characters "at the Great Hall of the People in China. He was granted "special contribution people in Asia-Pacific region "by Asia- Pacific Economic and Trade Association and Thai-ASEAN Business Promotion Association in 2012. His wavy official script is regarded as "trailblazer" by CCTV network. His artworks have been collected by the Great Hall of the People, the Military Museum of China, the State Administration of Cultural Heritage, as well as Southeast Asia and overseas Asian countries. Wavy official script of "Three Character Classic" was registered by the State Copyright Bureau. He involved in charitable and public welfare and successively donates calligraphy and paintings to disaster area of Wenchuan, Gansu, Qinghai, Hebei, etc.
In his lifetime, he wants to further improve the Wavy official script and organized them into books to spread the whole world. He will focus on innovation and improvement of Chinese painting.