About Athena Technologies
PLEASE READ THESE TERMS AND CONDITIONS CAREFULLY!
Welcome to www.eathenatech.com! These Terms of Use describe the terms and conditions applicable to your access and use of the websites at www.eathenatech.com and www.eathenatech.cn (each a "Site"). This document is a legally binding agreement between you as the user(s) of the Sites (referred to as "you", "your" or "User" hereinafter) and the eathenatech.com entity listed in clause 2.1 below (referred to as "we", "our" or "eathenatech.com" hereinafter).

1. Application and Acceptance of the Terms
1.1 Your use of the Sites and eathenatech's services, software and products (collectively the as the "Services" hereinafter) is subject to the terms and conditions contained in this document as well as the Privacy Policy, the Product Listing Policy and any other rules and policies of the Sites that eathenatech.com may publish from time to time. This document and such other rules and policies of the Sites are collectively referred to below as the "Terms". By accessing the Sites or using the Services, you agree to accept and be bound by the Terms. Please do not use the Services or the Sites if you do not accept all of the Terms.
1.2 You may not use the Services and may not accept the Terms if (a) you are not of legal age to form a binding contract with eathenatech.com, or (b) you are not permitted to receive any Services under the laws of United States or other countries / regions including the country / region in which you are resident or from which you use the Services.
1.3 You acknowledge and agree that eathenatech.com may amend any Terms at any time by posting the relevant amended and restated Terms on the Sites. By continuing to use the Services or the Sites, you agree that the amended Terms will apply to you.
1.4 If eathenatech.com has posted or provided a translation of the English language version of the Terms, you agree that the translation is provided for convenience only and that the English language version will govern your uses of the Services or the Sites.
1.5 You may be required to enter into a separate agreement, whether online or offline, with eathenatech.com or our affiliate for any Service ("Additional Agreements"). If there is any conflict or inconsistency between the Terms and an Additional Agreement, the Additional Agreement shall take precedence over the Terms only in relation to that Service concerned.
1.6 The Terms may not otherwise be modified except in writing by an authorized officer of eathenatech.com.
2. Users Generally
2.1 As a condition of your access to and use of the Sites or Services, you agree that you will comply with all applicable laws and regulations when using the Sites or Services.

2.2 You agree to use the Sites or Services solely for your own private and internal purposes. You agree that (a) you will not copy, reproduce, download, re-publish, sell, distribute or resell any Services or any information, text, images, graphics, video clips, sound, directories, files, databases or listings, etc. available on or through the Sites (the "Site Content"), and (b) you will not copy, reproduce, download, compile or otherwise use any Site Content for the purposes of operating a business that competes with eathenatech.com, or otherwise commercially exploiting the Site Content. Systematic retrieval of Site Content from the Sites to create or compile, directly or indirectly, a collection, compilation, database or directory (whether through robots, spiders, automatic devices or manual processes) without written permission from eathenatech.com is prohibited. Use of any content or materials on the Sites for any purpose not expressly permitted in the Terms is prohibited.
2.3 You must read eathenatech.com's Privacy Policy which governs the protection and use of personal information about Users in the possession of eathenatech.com and our affiliates. You accept the terms of the Privacy Policy and agree to the use of the personal information about you in accordance with the Privacy Policy.
2.4 You agree not to undertake any action to undermine the integrity of the computer systems or networks of eathenatech.com and/or any other User nor to gain unauthorized access to such computer systems or networks.
2.5 You agree not to undertake any action which may undermine the integrity of eathenatech.com's feedback system, such as leaving positive feedback for yourself using secondary Member IDs or through third parties or by leaving unsubstantiated negative feedback for another User.
2.6 By posting or displaying any information, content or material ("User Content") on the Sites or providing any User Content to eathenatech.com or our representative(s), you grant an irrevocable, perpetual, worldwide, royalty-free, and sub-licensable (through multiple tiers) license to eathenatech.com to display, transmit, distribute, reproduce, publish, duplicate, adapt, modify, translate, create derivative works, and otherwise use any or all of the User Content in any form, media, or technology now known or not currently known in any manner and for any purpose which may be beneficial to the operation of the Sites, the provision of any Services and/or the business of the User. You confirm and warrant to eathenatech.com that you have all the rights, power and authority necessary to grant the above license.
3. Member's Responsibilities
3.1 Each Member represents warrants and agrees that (a) you have full power and authority to accept the Terms, to grant the license and authorization and to perform the obligations hereunder; (b) you use the Sites and Services for business purposes only; and (c) the address you provide when registering is the principal place of business of your business entity. For purposes of this provision, a branch or liaison office will not be considered a separate entity and your principal place of business will be deemed to be that of your head office.
3.2 Member will be required to provide information or material about your entity, business or products/services as part of the registration process on the Sites or your use of any Service or the member account. Each Member represents warrants and agrees that (a) such information and material whether submitted during the registration process or thereafter throughout the continuation of the use of the Sites or Service is true, accurate, current and complete, and (b) you will maintain and promptly amend all information and material to keep it true, accurate, current and complete.
3.3 Upon becoming a Member, you consent to the inclusion of the contact information about you in our Buyer Database and authorize eathenatech.com and our affiliates to share the contact information with other Users or otherwise use your personal information in accordance with the Privacy Policy.
3.4 Each Member represents, warrants and agrees that (a) you shall be solely responsible for obtaining all necessary third party licenses and permissions regarding any User Content that you submit, post or display; (b) any User Content that you submit, post or display does not infringe or violate any of the copyright, patent, trademark, trade name, trade secrets or any other personal or proprietary rights of any third party ("Third Party Rights"); and (c) you have the right and authority to sell, trade, distribute or export or offer to sell, trade, distribute or export the products or services described in the User Content and such sale, trade, distribution or export or offer does not violate any Third Party Rights.
3.5 Each Member further represents, warrants and agrees that the User Content that you submit, post or display shall:
a) Be true, accurate, complete and lawful;
b) Not be false, misleading or deceptive;
c) Not contain information that is defamatory, libelous, threatening or harassing, obscene, objectionable, offensive, sexually explicit or harmful to minors;
d) Not contain information that is discriminatory or promotes discrimination based on race, sex, religion, nationality, disability, sexual orientation or age;
e) Not violate the Product Listing Policy, other Terms or any applicable Additional Agreements
f) Not violate any applicable laws and regulations (including without limitation those governing export control, consumer protection, unfair competition, or false advertising) or promote any activities which may violate any applicable laws and regulations;
g) Not contain any link directly or indirectly to any other web Sites which includes any content that may violate the Terms.
3.6 Each Member further represents, warrants and agrees that you shall:

a) Carry on your activities on the Sites in compliance with any applicable laws and regulations;
b) Conduct your business transactions with other users of the Sites in good faith;
c) Carry on your activities in accordance with the Terms and any applicable Additional Agreements;
d) Not use the Services or Sites to defraud any person or entity (including without limitation sale of stolen items, use of stolen credit/debit cards);
e) Not impersonate any person or entity, misrepresent yourself or your affiliation with any person or entity;
f) Not engage in spamming or phishing;
g) Not engage in any other unlawful activities (including without limitation those which would constitute a criminal offence, give rise to civil liability, etc.) or encourage or abet any unlawful activities;
h) Not involve attempts to copy, reproduce, exploit or expropriate eathenatech's various proprietary directories, databases and listings;
i) Not involve any computer viruses or other destructive devices and codes that have the effect of damaging, interfering with, intercepting or expropriating any software or hardware system, data or personal information;
j) Not involve any scheme to undermine the integrity of the data, systems or networks used by eathenatech.com and/or any user of the Sites or gain unauthorized access to such data, systems or networks;
k) Not engage in any activities that would otherwise create any liability for eathenatech.com or our affiliates.
3.7 Member may not use the Services and member account to engage in activities which are identical or similar to eathenatech's e-commerce marketplace business.
3.8 Member agrees to provide all necessary information, materials and approval, and render all reasonable assistance and cooperation necessary for eathenatech.com's provision of the Services, evaluating whether Member has breached the Terms and/or handling any complaint against the Member. If Member's failure to do so results in delay in, or suspension or termination of, the provision of any Service, eathenatech.com shall not be obliged to extend the relevant service period nor shall be liable for any loss or damages arising from such delay, suspension or termination.
4. Limitation of Liability
4.1 Any material downloaded or otherwise obtained through the Sites is done at each User's sole discretion and risk and each User is solely responsible for any damage to eathenatech.com's computer system or loss of data that may result from the download of any such material. No advice or information, whether oral or written, obtained by any User from eathenatech.com or through or from the Sites shall create any warranty not expressly stated herein.
4.2 The Sites may make available to User services or products provided by independent third parties. No warranty or representation is made with regard to such services or products. In no event shall eathenatech.com and our affiliates be held liable for any such services or products.
4.3 Indemnification
You agree to defend, indemnify and hold harmless MadeInChina.com from and against any and all claims, damages, costs and expenses, including attorneys' fees, arising from or related to your use of the Site.
4.4 eathenatech.com shall not be liable for any special, direct, indirect, punitive, incidental or consequential damages or any damages whatsoever (including but not limited to damages for loss of profits or savings, business interruption, loss of information), whether in contract, negligence, tort, equity or otherwise or any other damages resulting from any of the following.
a) The use or the inability to use the Sites or Services;
b) Any defect in goods, samples, data, information or services purchased or obtained from a User or any other third party through the Sites;
c) Violation of Third Party Rights or claims or demands that User's manufacture, importation, export, distribution, offer, display, purchase, sale and/or use of products or services offered or displayed on the Sites may violate or may be asserted to violate Third Party Rights; or claims by any party that they are entitled to defense or indemnification in relation to assertions of rights, demands or claims by Third Party Rights claimants;
d) Unauthorized access by third parties to data or private information of any User;
4.5 The limitations and exclusions of liability to you under the Terms shall apply to the maximum extent permitted by law and shall apply whether or not eathenatech.com has been advised of or should have been aware of the possibility of any such losses arising.
5. Intellectual Property Rights
5.1 eathenatech.com is the sole owner or lawful licensee of all the rights to the Site and the Content. The Site and Content embody trade secrets and intellectual property rights protected under worldwide copyright and other laws. All title, ownership and intellectual property rights in the Site and Content shall remain with eathenatech.com, its affiliates or licensors of the Content, as the case may be. All rights not otherwise claimed under this Agreement or by eathenatech.com are hereby reserved.
5.2 eathenatech.com and related icons and logos are registered trademarks or trademarks or service marks of Athena technologies Inc. in various jurisdictions and are protected under applicable copyright, trademark and other proprietary rights laws. The unauthorized copying, modification, use or publication of these marks is strictly prohibited.
6. General Provisions
6.1 Subject to any Additional Agreements, the Terms constitute the entire agreement between you and eathenatech.com with respect to and govern your use of the Sites and Services, superseding any prior written or oral agreements in relation to the same subject matter herein.
6.2 eathenatech.com and you are independent contractors, and no agency, partnership, joint venture, employee-employer or franchiser-franchisee relationship is intended or created by the Terms.
6.3 If any provision of the Terms is held to be invalid or unenforceable, such provision shall be deleted and the remaining provisions shall remain valid and be enforced.
6.4 Headings are for reference purposes only and in no way define, limit, construe or describe the scope or extent of such section.
6.5 eathenatech.com's failure to enforce any right or failure to act with respect to any breach by you under the Terms will not constitute a waiver of that right nor a waiver of eathenatech.com's right to act with respect to subsequent or similar breaches.
6.6 eathenatech.com shall have the right to assign the Terms (including all of our rights, titles, benefits, interests, and obligations and duties in the Terms to any person or entity (including any affiliates of eathenatech.com). You may not assign, in whole or part, the Terms to any person or entity.
The 40th Anniversary of Edward Nixon's China Trip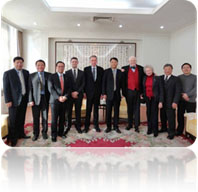 At a time of the 40th anniversary of President Nixon's historic visit to the People's Republic of China, his younger brother, the president of Nixon World Enterprises Inc., Mr. Edward Nixon, visited China for business communications and exchanges, and for most important is to celebrate the 40th anniversary of China-US friendship in February, 2012. Mr. John Gong, Chairman of Athena Technologies Inc., is the visit of China's special envoy. Counterparts are including Ph.D. James Humes (speechwriter of President Nixon and the other four presidents), Ms. Dianne Humes (President Nixon's secretary), Devon Nixon (President Nixon's grand-nephew), and private advisers of Mr. Edward Nixon, John Wong and Paul Lu. Mr. Nixon and his group arrived in Beijing, Shanghai, Hangzhou, Wuxi, Kunshan City (Jiangsu Province), Shenzhen and other places. Edward Nixon's visit to China was followed President Nixon's tracks of places. The meaning can be imagined.
Read more...